Stories from Somalia
Somalia: Floods in a Time of Drought
Somalia was still reeling from a devastating two-year drought when the rains began.
The heavy rainfall caused rivers to rise sharply and overflow their banks. In the worst-hit areas, farmland, infrastructure, and roads were destroyed by the floods. Making matters worse, thousands of cases of acute watery diarrhoea and cholera, malaria, and measles have been reported since the start of the year.
Medair's emergency response team (ERT) travelled to a village that has been a cholera hotspot, aiming to prevent further damage or loss of life. Yusuf was with the ERT for the mission; he's a father of three and a farmer who spends some time every day volunteering with Medair, promoting health and hygiene to families in his community. "Following the heavy rains, the roads were cut off and some of the farmlands were flooded," said Yusuf.
"People were worried." Yusuf
The ERT used a boat to reach the village, where they assessed the crisis alongside community elders. The WFP donated 5,000 sandbags, which Yusuf and the team filled with sand, building dykes at vulnerable sites along the river to prevent overflowing. Over five days, the team built 29 dykes and promoted health and hygiene awareness, with special attention to the ways households could best survive in the event of flooding.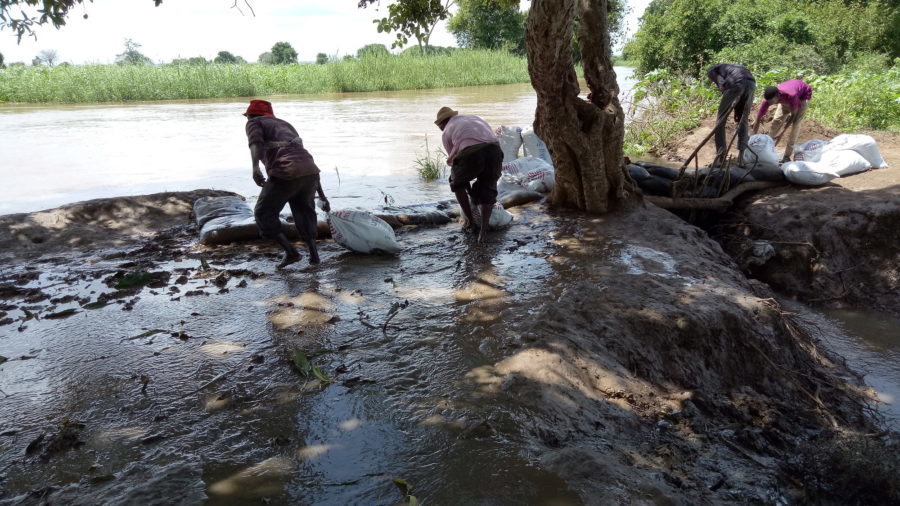 To further protect the community from the risk of deadly waterborne diseases, we provided over 1,000 families with water filters mounted on jerry cans, along with extra jerry cans per family for water collection and storage.
Despite all the damage caused by the floods, the heavy rainfall has left some communities feeling hopeful. After years of poor rainfall and severe drought, this year's rains could produce a bountiful harvest of food, which families here desperately need. In Yusuf's village, however, they will have to wait until the waters recede to plant again, delaying their harvest by two months. This means their lean season will be longer than usual, and that means Medair must prepare for more people needing treatment for malnutrition.
Still, after two years of drought, Yusuf holds to the hope that ultimately they will reap a good harvest. "We will plant again and we are really hopeful that this year the farms will produce a lot of crops," said Yusuf.
Your monthly gifts make this crucial work possible. Join the journey today.
Medair has been relieving suffering in Somalia since 2008, providing health, nutrition, and WASH projects in close collaboration with four local partner NGOs. Our emergency response team responds to outbreaks with treatment centres, emergency supplies, hygiene promotion, and training of health and community staff.
We currently support 12 health facilities, including 24/7 maternity services, and provide community outreach for health, nutrition, and WASH.  Our special strength is the link between quality improvement in health facilities, and training and supervision for community-based volunteers engaged in Behaviour Change Communication. These activities mutually reinforce each other, greatly increasing the use of services in the health facilities, as well as increasing healthy behaviours like exclusive breastfeeding and accessing basic treatment of childhood diseases in rural areas. Medair has a team of over 1,000 volunteers like Yusuf in Somalia.
Medair's work in Somalia is made possible by Swiss Solidarity, TEAR (AU), US Agency for International Development, World Food Programme, UNICEF, and the generous support of private donors.
This content was produced with resources gathered by Medair field and headquarters staff. The views expressed herein are those solely of Medair and should not be taken, in any way, to reflect the official opinion of any other organisation.