Stories from
Forced to Flee
Who is more vulnerable than a pregnant woman fleeing from attack, carrying the most fragile of lives inside of her?
Hivda was pregnant with her first child when armed groups attacked her village in Sinjar, Iraq in August 2014.
"We didn't have a car and I was pregnant" Hivda, now 21
She was among an estimated 130,000 people who fled to Sinjar mountain for safety, where they became trapped for 10 days on top of the mountain.
"I got sick coming here and there was no water, clean or dirty." "We had nothing to drink and it was so hot. We thought we would die." Hivda
Eventually, a safe passage was created for people to leave on the north side of the mountain. Several thousand families remained on Sinjar mountain and were reached with food, water, and shelter supplies. Hivda stayed there, and she gave birth to her first child on the mountain.
More than one year later, the armed groups lost control of Sinjar town. Medair sent a team to Sinjar mountain to assess the needs.
At a health post north of the mountain, we spoke to a patient, an older woman who told us she had helped deliver five babies in her village in the past year. She estimated that about 100 women from that village had given birth since the attacks, and only half of them had gone to the nearest hospital, three hours away, for delivery. The others remained on the mountain to deliver at home without skilled assistance. Without female health providers in the immediate area, these women are vulnerable to any complications during childbirth.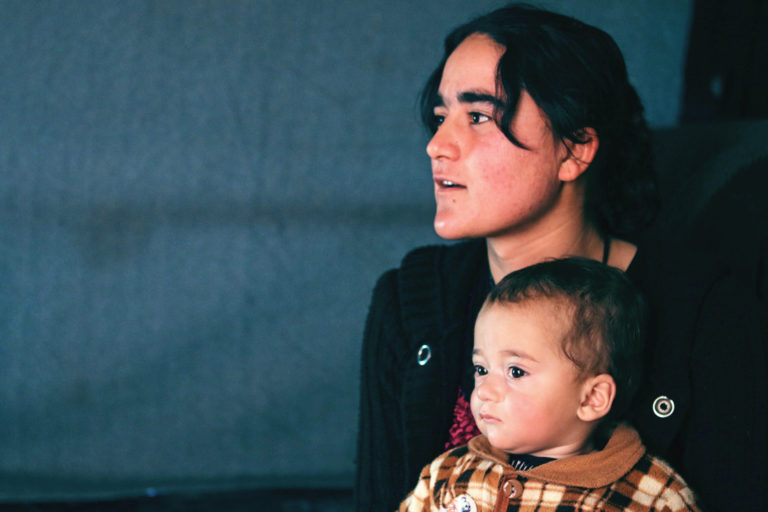 "There's no midwife here, so if it's very urgent and the baby comes, we have to deliver it ourselves," says Havin, pregnant with her sixth child. She lives with her children in a tent on top of the mountain. "Yes, we are afraid of the idea of giving birth here on the mountain. Getting to [the hospital] might not be possible for us. It will depend. We can't make it there if we go into labour at night."
"It was raining," remembers Naza, 21. "It was night, and we didn't have a car so I delivered her here. There was no one professional here who knew about delivering children, not even a midwife. I think that is why I became sick and had to go to the hospital."
"We don't have much, we are poor and in a bad situation," says Havin. "If there were a female doctor we could see that would help us very much."
Good news! Thanks to gifts from private supporters around the world, a Medair medical team made up of male and female health staff began in February 2016 to provide health services for the families living in tents and houses on Sinjar mountain or in nearby villages.
Would you like to receive more stories like this from around the world? Sign up for our monthly newsletter and receive stories directly to your inbox.