Stories
DR Congo Update: The Road to Limangi
Bisika Sadiki never believed this day would come.
Bisika Sadiki never believed this day would come. He had lived his whole life in the isolated village of Limangi, home to 6,000 people, tucked deep in the jungle of North Kivu, DR Congo.
If anyone wanted to get anywhere in Limangi, they needed to hike down a steep and muddy jungle path for 90 minutes to reach the nearest town of Kibua. Yet that's the only way they could buy food or be treated at hospital. "It has always been a problem for us to get our sick patients to hospital," said Bisika.
"We carry them down on our backs."
In April 2015, things began to change. Medair became the first international organisation to reach Limangi in over a decade, after years of occupation in the region by an armed rebel group. Although the village proved safe to work in, the fact that it was only reachable by jungle path prevented many organisations from working there.
Medair improved Limangi's run-down health clinic and began providing free health care right in the village. Then, with the support and encouragement of the community, we began turning that old jungle path into a road.
We hired local labourers to widen the path and to build bridges over the rivers. The work provided much-needed income to families whose daily lives are affected by fears of conflict and where few other employment opportunities exist.
"Polé polé", or little by little, the road grew wider and longer, and one year after Medair staff had first hiked into the village, we officially opened the road to Limangi.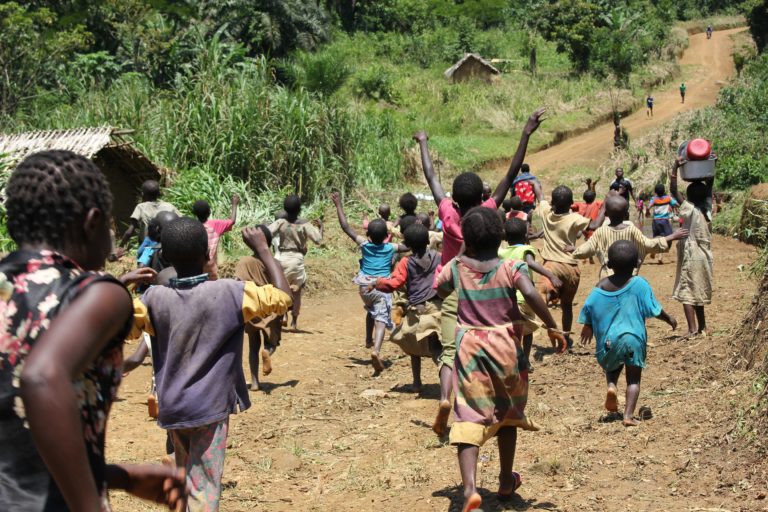 On 20 April 2016, Medair drove the full length of the road from Kibua to Limangi for the first time. No car had ever been in the village before. Crowds of people sang songs and clapped as Medair's vehicles approached the village. Children ran to meet a group of runners who raced to Limangi in celebration of the new road.
The new road now takes only 30 minutes to walk from Kibua to Limangi, an incredible improvement from years gone by. "This day is a very memorable day for the children of Kibua and Limangi!" said Bisika, smiling widely. "This road is good for our health care, good for our economy, and good for our children!"
Read the story of  a joyful mother in Limangi who benefited from the incredible transformation taking place in her community back in December 2015.
Medair's work in DR Congo is made possible with support from European Commission's Humanitarian Aid and Civil Protection department, Medicor Foundation (LI), Swiss Agency for Development and Cooperation, Swiss Solidarity, United Nation's Population Fund, US Agency for International Development, and generous private donors.
This content was produced with resources gathered by Medair field and headquarters staff. The views expressed herein are those solely of Medair and should not be taken, in any way, to reflect the official opinion of any other organisation.